About All Out Roofing, LLC
Free Estimates | A+ BBB Rating | Over A Decade In Experience
Why Our Customers Choose Us
There are many characteristics homeowners need to consider before choosing the right roofing company. To list a few, you need to ask if they're licensed and insured. Secondly, ask for work references if you do not fully trust them. Lastly, do they have the right experience?
Homeowners in Oklahoma want to be ensured that they can get the best price for the best value. At All Out Roofing, LLC our work will always exceed our price. We want to make sure you get the best value your home deserves.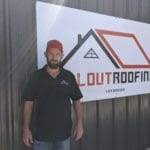 Owner of All Out Roofing, LLC
At the young age of 15, Josh started framing houses and roofing in Florida. When he graduated high school, he was offered a scholarship but decided to pursue his passion in the labor field. He started working for a company called Trench Technician. In a year, with hard work and dedication, Josh climbed his way to the top, obtaining the position of Lead Forman. A few years after, a chemical plant in Tennessee offered him a position. Switching into a new career path, Josh never lost his love for remodeling and roofing. Working four days a week, Josh took advantage of his days off and continued his pursuit of remodeling and roofing. In 2009 he was given the opportunity that would set him down the path for All Out Roofing. Starting as a sales rep he quickly climbed to the top, becoming a project manager. Since then, Josh has made Oklahoma his home where he met and married his wife. Together they have three beautiful children. "I am laying the foundation for them to carry on our legacy for many years to come." – Josh Williams.